Earth Day 2020: Regeneration on Planet Earth 地球日2020:在地球活著 · 重生
22 Apr 2020 | 12:00
Activism Edible Spaces Climate Change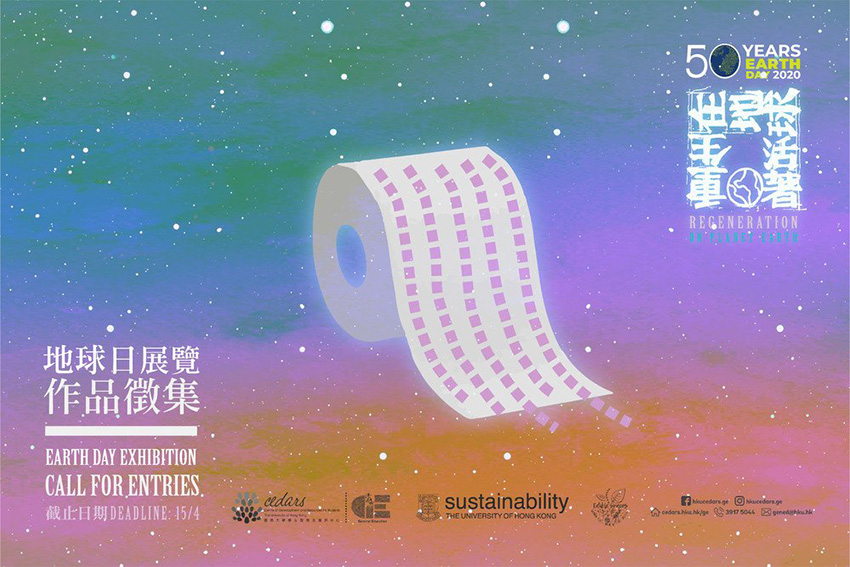 EARTH DAY 2020 Call for Entries – Earth Day Exhibition: Regeneration On Planet Earth
地球日2020: 展覽作品徵集
In the midst of the pandemic, shoppers swarm stores, stocking supplies for self-preservation. Seemingly comical and absurd scenes make us wonder: what is essential in our lives? Is it face masks for self-protection? Toilet paper for pooping? Beers and cocktails at bars for chilling? Or is it a breath of fresh air, a filled stomach, a healthy body and mind? At this unusual and unprecedented moment, let us reflect and remember, our lives are essentially linked to nature and Planet Earth.
This year, we will #stayathome and celebrate the 50th anniversary of Earth Day and the 2nd anniversary of our Herb Garden. We invite you to submit a creative work for the online exhibition themed "Regeneration On Planet Earth". Most art forms are welcomed. Selected works will be displayed on our social media platforms. The authors of the 5 most creative works will each be awarded 1 pack of recycled toilet paper!
Specifications:
2-dimensional visual artworks (such as paintings, drawings and photographs): Please upload a photo of your work in high resolution (300 dpi) JPEG format and within 10MB in size. It is not required to submit the actual artwork.
Media artworks (such as music, film, animation): The length should be less than 3 minutes. You may upload your video to the hosting websites such as YouTube and Vimeo and provide the video link to us.
Writing: Maximum number of words: 300; either in English or Chinese. The file should be sent in MS WORD format.
Submission: Participants can fill in the online form and upload the work.
Submission Deadline: 5 pm, 15/4/2020 (Wed)
All submitted works must be original. Participants may bear the relevant legal liabilities if it involves infringement of copyrights of others.

疫情爆發初期,人人為求自保不惜搶購物資,有人為了一條廁紙不惜持刀行劫,一幕幕看似滑稽荒誕情節上演……究竟生活中甚麼才是最重要?出街有口罩用?去廁所有廁紙用?到酒吧有酒飲?還是呼吸到新鮮空氣?吃到三餐溫飽?擁有健康身心?當下生活習慣、節奏突然改變,讓我們反思一切看似理所當然的生活需要,其實都與大自然息息相關。

今年「地球日」的活動改以網上進行,趁着留家抗疫的日子,我們誠邀大家創作關於「在地球活著・重生」的作品,形式不限;被選中的作品將展示於我們的社交平台。我們將選出最具創意的5個作品,其創作人將可獲贈炙手可熱禮品一份──循環再造廁紙1條!

作品形式包括:
2D平面作品(包括繪畫、素描、攝影等):無需遞交實體作品,將完成作品之相片以電腦圖檔格式為JPEG及300dpi上傳,大小以10MB為限。
多媒體作品(包括音樂 、影片、動畫等): 長度為3分鐘以內,可上載作品到YouTube 或 Vimeo,只需提供上載作品後的網址。
文字作品 :300字以內,中英均可,以MS WORD格式提交。
提交作品方法:
參加者請填妥
網上表格
並附上作品檔案或網址
截止提交日期:
2020年4月15日(星期三)下午5時
作品必須為原創,如涉及侵犯他人版權,參加者須自行承擔有關法律責任。