HKU Rooftop Farm Community Day | July
11 Jul 2020 | 16:00
HKU Rooftop Farm, Runme Shaw Building, HKU
Edible Spaces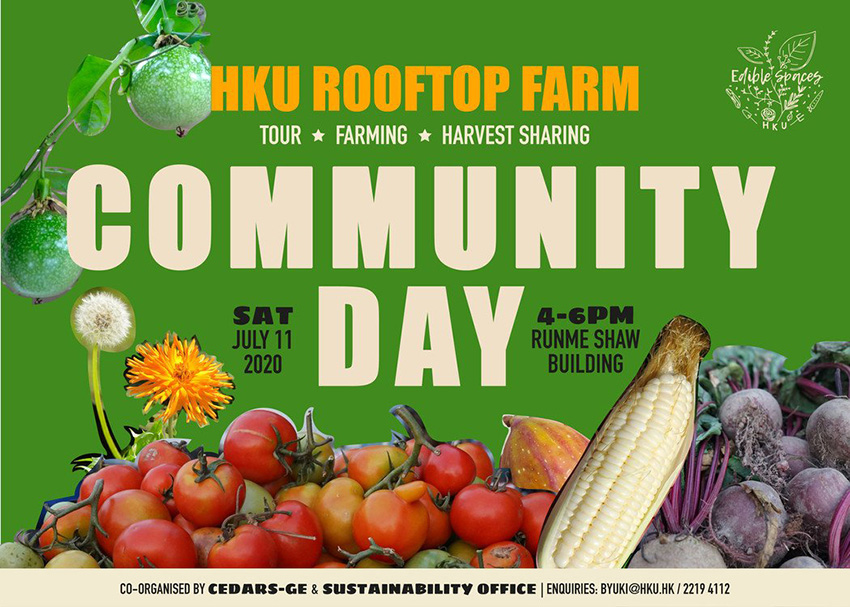 The last community day was cancelled due to bad weather, we hope we can meet you all this time!
A summer day at the rooftop can be hot and tiresome, but it can also be fun and fruitful as we care for the soil and plants, learn from the biodiversity at the farm and try to establish a balance which benefits people and nature together. Join us on July 11 to sweat and have some fun together! A guided tour will be held at 4 pm for newcomers.
Date: 11 July 2020 (Sat)
Time: 4-6pm
Venue: HKU Rooftop Farm (Walk up one floor from 4/F Runme Shaw Building)
Quota: 15
Registration: https://hkuems1.hku.hk/hkuems/ec_hdetail.aspx?ueid=70433 (For HKU students and staff)
HKU Rooftop Farm (Since 2013)
The HKU Rooftop Farm Project, initiated by CEDARS-GE and the Sustainability Office in 2013, aims to foster a sense of responsibility and connection to the natural environment through engaging the community in the process of growing, preparing and eating healthy organic food. It also aims at exploring the potential value of rooftops in a high-density city.
► Monthly Community Day
The monthly Community Day is a gathering and co-working day for farming team members and others who are interested in the HKU Rooftop Farm. A farm tour will be offered to newcomers.
► Volunteer farmers and gardeners
Students and staff members are welcome to join as volunteer farmers and gardeners after completing a farming programme organised by CEDARS-GE. Please click the links below or contact byuki@hku.hk for more details.
Find out more:
Website: https://www.ediblespaces.hku.hk/
Facebook: https://www.facebook.com/HKU.EdibleSpaces/
Instagram: https://www.instagram.com/ediblespaceshku/