"The Story of Plastic" Screening and Meet the Director | 2020 Disposable Plastic Free Campus
8 Oct 2020 | 18:30
Wang Gungwu Theatre, Graduate House, HKU
Ditch Disposable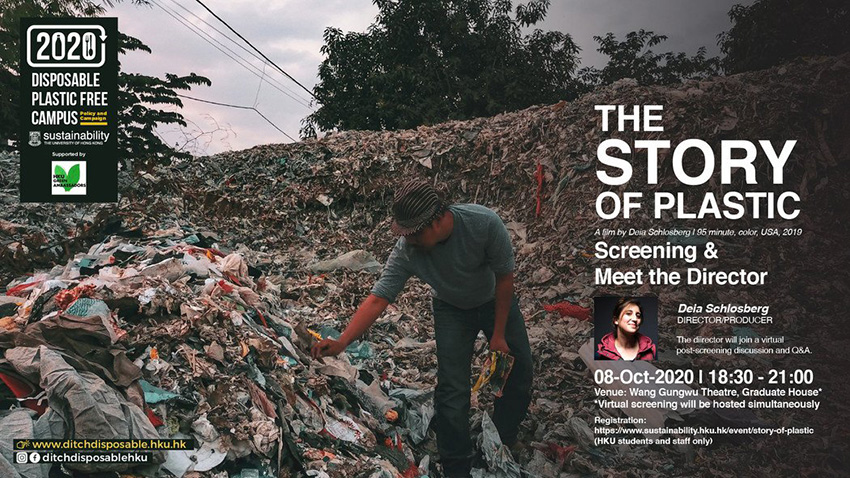 HKU has taken a big step to reduce and limit the amount of disposable plastic waste generated on campus through the Disposable Plastic Free Campus Policy effective on 1st September 2020. The policy will ban the sale and distribution of a list of single-use plastic items on campus. We have prepared the screening of the 2019 film, The Story of Plastic, to help you understand the global plastic pollution crisis and be part of the change for a more sustainable future. The screening will be followed by a virtual discussion and Q&A session with the director Deia Schlosberg.

ABOUT THE FILM
The Story of Plastic is a searing expose, uncovering the ugly truth behind plastic pollution and the false solution of plastic recycling. Different from every other plastic documentary you've seen, THE STORY OF PLASTIC presents a cohesive timeline of how we got to our current global plastic pollution crisis and how the oil and gas industry has successfully manipulated the narrative around it. From the extraction of fossil fuels and plastic disposal to the global resistance fighting back, THE STORY OF PLASTIC is a life-changing film depicting one of the world's most pressing environmental issues.
ABOUT THE DIRECTOR
Deia Schlosberg (DIRECTOR/PRODUCER) made national news in October 2016, when she was arrested and charged with 45 years' worth of felonies for filming the #ShutItDown pipeline protest in North Dakota. Deia produced Josh Fox's climate change film, How to Let Go of the World and Love All the Things Climate Can't Change (Sundance/HBO). Deia also co-produced Awake, A Dream from Standing Rock (Tribeca/Netflix), and The Reluctant Radical (2018). Deia also co-directed and produced Cold Love. Her short film, Backyard, a look at the human impacts of fracking, won two student Emmys (Best Documentary, Bricker Humanitarian Award).
Date: 08-OCT-2020 (Thursday)
Time: 18:30 - 21:00
Venue: Wang Gungwu Theatre, Graduate House, HKU*
*Virtual screening will be held simultaneously for HKU students/staff who cannot physically attend the event. A zoom link will be sent to participants closer to the event day.
Registration
If you wish to attend the event physically at HKU, please register "Face-to-face Screening". If you wish to be sent a zoom link to attend the event virtually, please register "Virtual Screening". Please note that the Virtual Screening may have slightly poorer visual and sound quality. This event is only open for HKU students and staff, please log in to your portal account for registration.
Face-to-face Screening: https://hkuems1.hku.hk/hkuems/ec_hdetail.aspx?ueid=71854
Virtual Screening: https://hkuems1.hku.hk/hkuems/ec_hdetail.aspx?ueid=71861
"Guidelines on infection control measures for HKU events" effective from September 1, 2020 will be observed.